For a lot of people,
saving money can be extremely difficult
.
I think it's safe to assume we all know we need to save for a 'rainy day' or have funds stashed for those just-in-case moments, but it's always easier said than done. It's taken me a while to post this, because
money is a sensitive issue
for a lot of people. I'm not an expert on saving, just a person that has had to learn lessons about money the hard way and hope by sharing my story, it will encourage you to
think twice about saving
.
In 2012, I saved all the money I could because I had a dream of opening my own online boutique. I decided I wanted to fund it out of my own pocket, because I don't believe in taking out loans - I'm quite allergic to owing people money. I saved half of every bonus and check from YouTube, started making my food at home, and even set a VERY strict, yet realistic budget (I hate that 'B' word).
In February of 2013, I had enough money to open the boutique so I invested in my dream by taking 2/3 of the money I saved to get the ball rolling. Things were going very well, until September 9 of that same year. I remember the date very well because that's the day my car decided to shut down while it was in motion. It was also my 26th birthday. Luckily, I was pulling into my parking space at my apartment when it happened, but that was the day my life changed.
I had the car fixed and life went on. Over the course of a month, the dang car kept shutting down and I pretty much had everything under the hood replaced for no reason because I'm a girl and the bozo fixing my car totally took advantage the mechanic I went to didn't have the proper equipment to figure out the real problem was one of the sensors blew out. Eventually, I got the car fixed, but my bank account was completely drained - not to mention I lost my corporate job because of that ordeal.
So, my main source of income was gone AND I had no savings. What's a girl to do?
START OVER
I didn't tell that story for sympathy, I told it because random things like that happen everyday to all kinds of people. I cringe when I think of how much worse that story could've been if I didn't have that money set aside. Luckily, I didn't go into debt from this setback, but I can see how easy it would've been if that money wasn't there. I also know that for a lot of people, myself included, it's hard to recover from that kind of loss. So, I came up with a few very easy ways to save money, especially when money is already tight.
Over the past 6 months, I have tried out several different savings plans and have gotten pretty good results. I'm not a coupon clipper, and this didn't happen over night. The time it takes will vary, and patience is required. But if you make a conscious effort to follow any of these simple savings plans, you can build your savings with very little effort.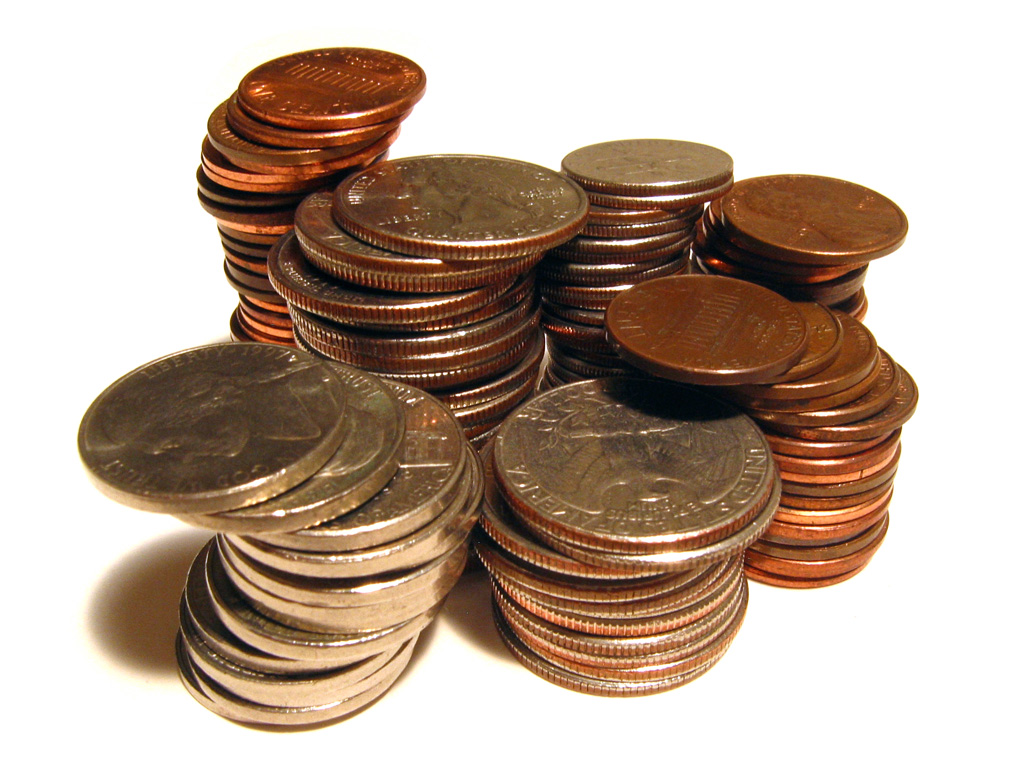 1. Save ALL of your coins
I'm not a big fan of coins and have been known to just throw it in the bottom of my bag, leave it on the car floor, or just give it away. I didn't realize that those coins added up to almost $90! Since money was already tight, I didn't want to waste it on fancy coin seperators. I simply used supplies around the house to create my own coin containers out of recycled water bottles.
2. Build your savings $1 at a time
This is a really easy concept:
If you get a dollar bill in your possession, save it!
If you can afford it, try saving all of you $5's or $10's. My budget only allowed $1 bills, but I was able to save $103 dollars in 4 months. I used an old juice container and cut off the neck of the bottle to store my savings.
3. If you have money left over when you get paid again, SAVE IT
Or at least save some of it. I know you're probably giving me all kinds of side eye right now because it's customary to use that money to go have a little fun. The reality is, if you have less than your car insurance deductible saved, your bank account needs that money more than whatever bar (club, artist, etc) does. It's a very temporary sacrifice, and you'll be glad you have that 'spare money' when you really need it.
I like to call this the 'out-of-sight, out-of-mind'/'rainy day' stash because I prefer not to see this savings account on a regular basis. But it's great to know it's there if I need it. I suggest building it up to and keeping no less than $200 in that stash. That way if your favorite artist comes in town, you randomly need (or want) to go on a road trip, or you need to get something minor fixed on your car you have the money available.
If you're dedicated enough, this is a really easy plan to follow. Simply save the dollar amount of the week you're on (week 1=$1, week 2=$2, etc). By the end of the year you should have a little more than $1,300.


I did 4/5 of these plans at the same time, which is how I was able to grow my savings account so quickly. Feel free to mix and match the savings plans according to your budget and remember to set realistic expectations for yourself.
Good luck on your journey, and please share your favorite money saving tips in the comments!